BUT THEY'RE KEEPING IT CLASSY. 
This was a bit of a shocking read this morning.
As much as I have "better things to do" with my time than worry about what celebrities are doing,  I'm supposed to be informed and  I can't bring myself to ignore some of  the NEWS that pops up.
This morning's news was comedienne/actress Jane Lynch and wife of three years (or so) Dr. Lara Embry are divorcing.
Lynch is 52 and Embry is 44, the pair met back in '09 at a fundraising event in San Fran. It didn't take long after that for the two to start dating and later to wed. They married in 2010 on Memorial Day in Massachusetts, one of the few states which would allow them to.
After having some difficulties, they've decided they can't see it through. As disheartening as it is any time a marriage ends, I had to share how classy these two are being about the entire thing.
Lynch was interviewed saying "Lara and I have decided to end our marriage. This has been a difficult decision for us as we care very deeply about one another. We ask for privacy as we deal with this family matter."  
I guess the message here is;  if it's gonna happen, keep it classy people!
If you're a fan of Jane Lynch, she's currently working on the musical production of  ANNIE as the character – Miss Hannigan.
Follow this link for some NOT SO PRETTY celebrity divorces.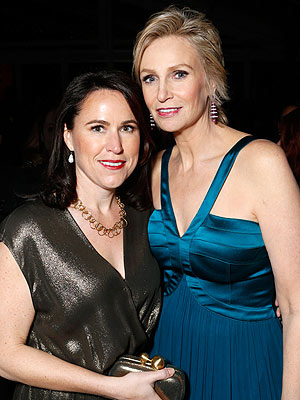 xoxoxoxo